Thistlegate Hammered dulcimer music
Thistlegate Music has created 3 instrumental works of hammered dulcimer music: Confluence, Winterfall, and The Brighter Side of Night. Once you hear these, we feel you will agree that they are some of the finest recordings in your collection. Order through Amazon.com, CDBaby, or click for the order form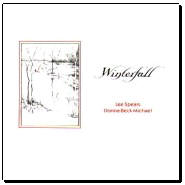 Winterfall Refreshing and relaxing, this impressionistic collection of Christmas dulcimer music brings the true spirit to the season. Simple, yet sophisticated hammer dulcimer music with piano. Lee Spears and pianist Donna Beck Michael paint musical images of joy and gentleness. Instruments include piano, hammered dulcimer, guitar, English horn and cello. A great gift that lightens the heart and brings warmth to the soul.
Rich in arpeggios, delicate texturing...inventive arrangements of standard Christmas music. --Encore Magazine
• Infinite clarity of sound in joy and gentleness, the music gathers
strength and warmth in crystalline fashion...the room fills with a
chorus of instrumentation. -- ESP magazine
• An uplifting, cheery mood...with pensive, quiet times that reflect the winter season. --Out 'n About

• It is soothing, a far cry from the atmosphere of most stores during the
Christmas Season. --Mountain Times
T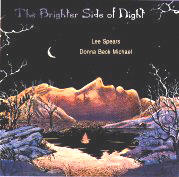 he Brighter Side of Night As featured on "Hearts of Space" programming for National Public Radio. Original compositions evoke a sense of wonderment, romance, and well being. Piano, hammered dulcimer, English and French horns, strings and other sounds of the night gather strength and warmth.
Confluence
A smooth collection of Irish and original melodies combining the hammer dulcimer music of Lee Spears and Christopher Deane. The Confluence hammer dulcimer tape features some dazzling hammered fulcimer playing along with guitar, flute, fiddle, cello and violins.
"Confluence is so familiar and soothing to our souls. I don't think you know how
much your music means to us. It really brings us home for awhile."-- Brenda, Denver
_______________________________________________________________
Lee Spears original hammered dulcimer music from Thistlegate Music: Winterfall, Brighter Side of Night, and Confluence dulcimer music with Christopher Deane.
(704) 637-1334
This webpage last updated 11/27/2005 10:17:55 AM -0800
---